Insotel Hotel Formentera Playa - Formentera Island
38.6845801504931

,

1.46771550178528
Formentera Island

,

Spain

|
211US$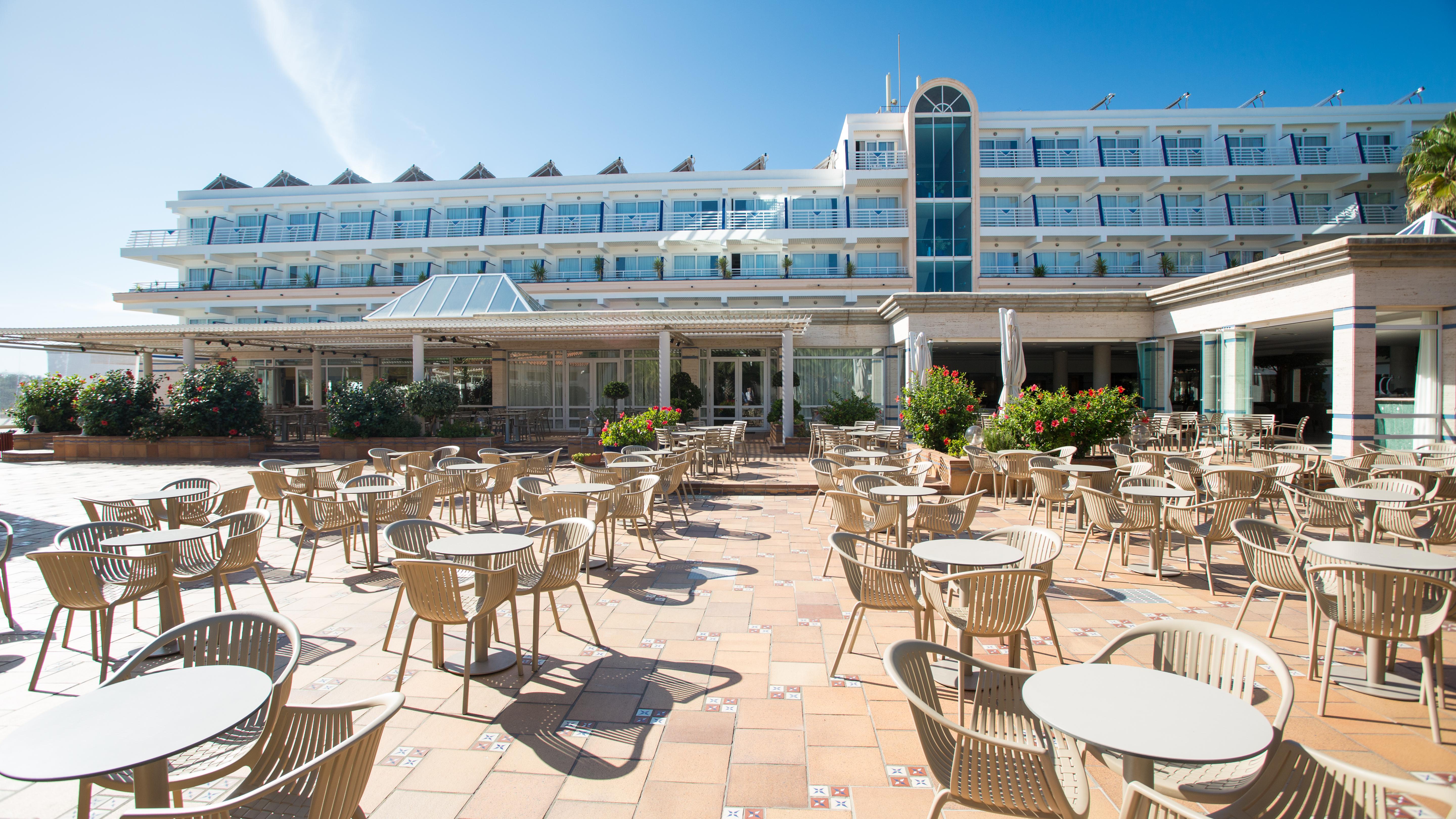 Highlights
Hotel Awards
According to guest reviews, the hotel has been rated as 
Use Badge
Address
Playa Migjorn
,
Formentera Island
,
Spain
,
07860
, Formentera
Overview
Placed 8 minutes by foot from Gecko Beach Club, the 4-star Insotel Hotel Formentera Playa Formentera Island provides guests with a baggage room and a barber shop. Located around 10 minutes' drive from Torre de sa Punta Prima, this Formentera Island hotel comprises 333 rooms and 2 restaurants.
Location
The center of Formentera Island can be reached within a 20-minute walk, and natural attractions like Ses Platgetes Beach are about 2.3 miles away. Insotel Hotel Formentera Playa hotel is 15 minutes by car from Punta Pedrera in Formentera Island. Standing about 2.7 miles away, Church of Sant Francesc Xavier is a hard-to-miss divine tourist destination.
Rooms
Some of the elegant rooms of Insotel Hotel Formentera Playa face the sea, and comprise a kitchenette and a dressing area. Guests can use a spa bathtub together with hairdryers and robes.
Eat & Drink
For Spanish cuisine, try Bar Restaurante Carabela which is in 400 feet away.
Leisure & Business
A sun terrace and an outdoor swimming pool are available at additional cost as well. The hotel offers snorkeling, diving and canoeing while cars rental is also available.
Internet
Wireless internet is available in the entire hotel for free.
Guest Parking
Public parking is possible on site for free.
The staff at the hotel speaks English, German, Spanish, Italian.
Year renovated:   2012.  Number of floors:   4.  Number of rooms:   262.
Former name: Insotel Club Formentera Playa
Facilities
Most popular facilities
24-hour services
24-hour reception
24-hour security
Food/ Drinks
Bar/ Lounge area
Restaurant
Welcome drink
Snack bar
Spa and relaxation
Pedicure
Manicure
Facial
Waxing
Massage
Beauty treatment
Treatment room
General
Wi-Fi
Parking
Baggage storage
24-hour services
Food/ Drinks
Fitness/ Gym
Swimming pool
Spa and relaxation
Sports & Fitness
Fitness club
Wind surfing
Diving
Snorkeling
Canoeing
Hiking
Cycling
Tennis court
Darts
Table tennis
Archery
Yoga class
Aerobics
Services
Room service
Housekeeping
Car rental
Bicycle rental
Laundry
Tours/Ticket assistance
Medical facilities service
Stores/Commercial services
Welcome drink
Dining
Restaurant
Snack bar
Bar/ Lounge area
Dinner
Special diet menus
Buffet breakfast
Children
Cribs
Baby stroller
Children's buffet
Board games
Children's play area
Kids club
Facilities for people with disabilities
Spa & Leisure
Seasonal outdoor pool
Beach access
Beach umbrellas
Live entertainment
Sun terrace
Garden area
Leisure/ TV room
Pedicure
Manicure
Waxing
Facial
Treatment room
Beauty treatment
Massage
Make up services
Room features
Air conditioning
Heating
In-room safe
Mini-bar
Dressing area
Terrace
Garden furniture
Balcony
Tea and coffee facilities
Self-catering
Cookware/ Kitchen utensils
Media
Flat-screen TV
Telephone
AM/FM alarm clock
Good to know
Check-in
from 15:00-23:59
FREE
Check-out
until 12 pm
FREE
Children & extra beds
There are no cribs provided in a room. 
Pets
Pets are not allowed.
Rooms and availability

Bed options:

2 Single beds or 1 Double bed

Max:

2 persons


Bed options:

2 Single beds or 1 Double bed

Max:

2 persons
Sea view

Bathtub

Balcony

Air conditioning
Location
Playa Migjorn
,
Formentera Island
,
Spain
,
07860
, Formentera
City landmarks
Nearby
Restaurants
Hotels nearby
Torre des Pi des Catala
4800 ft
Castellum Roma de Can Blai
1.6 mi
Church
Esglesia de Sant Ferran de ses Roques
1.7 mi
Creu del Pare Palau
1.4 mi
Carretera la Savina
Castellum Romanum de Can Blei
1.6 mi
Carrer de Sant Jaume 17
Formentera Guitars
1.6 mi
Church
Church of Sant Francesc Xavier
2.6 mi
Theme Park
Torre de sa Punta Prima
2.7 mi
Church
Capella de sa tanca Vella
2.5 mi
Sanctuary and Castle of Javier
2.6 mi
Calle de Jaume I 15 Sant Francesc Xavier
Ethnological Museum of Formentera
2.5 mi
Raco des Vell Mari
2.4 mi
Ctra. A la Mola
Es Calo de San Agusti
2.7 mi
Carrer de Jaume I s/n
Ethnological Museum of Formentera
2.5 mi
Church
Iglesia de Sant Francesc
2.6 mi
Restaurant
Bar Restaurante Carabela
400 ft
You can book a shuttle, once your reservation is complete.
Reviews of Insotel Hotel Formentera Playa
Terry

The view from the terrace.

The cleanup started before 9 a.m. and was quite noisy. It is a macrohotel full of quite noisy families, with rude children by their rude parents, mostly Italian or from other European countries. It is a hotel interested in the number of occupied rooms rather than offering quality accommodation. It is more like a huge beehive full of bees. You pay an exorbitant hyper luxury price for a very normal room that may or may not have a good view of Migjorn beach. In my case it did. But that does not justify such an armed robbery. The rather poor and expensive buffet as well. Some blonde lady with short hair at the reception, who I suspected of wanting to use the gym without being in the hotel. In short, one and no more in the mediocre Formentera Playa. Next!!!.

John

Good location, excellent breakfast with plenty of food. Loved that we were upgraded to a better room. We spent evenings at Bar Restaurante Carabela, situated 200 meters from the hotel.

Catherine

Of all the hotels on the island and believe me I saw them all personally, including the Riu, it is the most beautiful and complete of all and breakfast is a marvel. Apart from that the price compared to the others was very good and it was not necessary to buy a minimum of three days like the others. tip for all travellers who are also looking for a good restaurant to eat well and at a good price. There is a restaurant called La Fragata, it is a bit far from the hotel, if you rent a car like me or a motorbike! Then you will also come back the next day to eat like me. You have to go with time because apparently the whole island likes to eat at this restaurant and aioli is phenomenal

I thought that a semi-private beach will charge 10 euros for beach chairs that belonged to the hotel as a 4 star hotel directly on the beach charges its guests 10 euros for beach chairs when the night will never be less than 180 euros per room for two people.

Roger

I loved the Free Buffet that came with the Double Deluxe room with a view of the sea. We could have it in a covered area, near the beach, with few people, total tranquility! Also very good staff in the other restaurant, although with so many families was more saturated. In reception very nice, solving doubts at the time. We took advantage of 2 very good possibilities of Leisure: 1-Massage service (it is paid separately), perfect for a total relaxation! 2-Opportunity to book a motorboat ride without the need for a license (service provided in Puerto La Savina). Views from the room really impressive and also ideal location, with direct access to the beach and sea, as I saw in Google Maps ;P

only thing is that it is another hotel for families and in that you have to be mentally prepared, more movement of people and pool usually fills up quickly.

missing

The location of the hotel is very nice. Kilometre-long beach.

Very large hotel, therefore not so suitable for those seeking peace and quiet atmosphere. We were there one week in low season, and we had four choices. You can also eat in the hotel, with drinks it costs 34Euro.

missing

Food was perfect, rooms comfortable, good service

missing

For Family its à Nice Hotel I think only can not imagine that they pay the Same price like we did as à couple.

The way things went at the reception. Nice but very onproffesional

missing

The location of the hotel is ideal. The beach facility and pool are excellent.

Restaurant not so good, staff not very knowledgeable except for basics.

missing

Staff was very friendly

Family friendly resort with lots of guests, crowded swimming pools and crowded breakfast halls. Animation in the evenings for kids and families. Not very adapted for my needs (single travelling with a friend) and not charming at all

missing

Free katamaran useage every days. Diving lession. Flexible helpfull staff.

poor sound isolation in the room. Boring breakfest.

missing

Not that much. Probably only its location.

There was absolutely no atmosphere in the hotel whatsoever. The service was friendly and the rooms were clean, but for that money one would expect a lot more. We were charged for the wireless internet, paying over 250 euro a night. In hotels costing that, and more, wifi usually is free. All in all, a very overpriced hotel without a soul.

missing

Big 4 stars hotel on the Midjorn beach, easy to reach by bus from La Savina harbuor..Very very good breakfast Choose the studio in the park, it's the best option, like an indipendent house. There a market in the hotel...

You need wifi, sun bed in the beach in front of hotel, security box? No problem, just pay.

missing

Horrible service. It took one hour for us to check in as we werent registered, at least on paper. After one hour they found our reservation. The room we got was not the one reserved. The rooms were horrible, not even close as on the pictures on internet. The price for what we got was outrageous.

missing

The Hotel staff is super helpful. Very nice indeed. Considere that you need a car or scooter to move from this hotel (if you want to move). There is a good Hiring service offered by the hotel. Infrastructure is good but do not expect a spa. The hotel rooms are small, very small. Bungalows are fantastic and big.

missing

La relacion calidad precio es pesima. Es un hotel muy deficiente. Las habitaciones son malisimas, hacen pagar por todo (tumbonas en la playa, toallas) Lo unico bueno es el desayuno, pero ya puede serlo, a 22 euros por persona!
FAQ about Insotel Hotel Formentera Playa
How far is the city center from the smart Insotel Hotel Formentera Playa?
Formentera Island city center is reachable within a 20-minute walk from the smart Insotel Hotel Formentera Playa.
What landmarks can I find in vicinity of Insotel Hotel Formentera Playa?
During the stay at Insotel Hotel Formentera Playa guests can visit Puerto de Formentera (4.1 miles), Cala en Baster (1.3 miles) as well as Platja Es Pujols (2.5 miles) among others.
Is there parking at the smart Insotel Hotel Formentera Playa Formentera Island?
Yes, the smart Insotel Hotel Formentera Playa Formentera Island features a public parking available onsite.
What time is check-in and check-out at the Insotel Hotel Formentera Playa?
Guests of the Insotel Hotel Formentera Playa can check in from 3 PM to 11.59 PM and check out from 12 PM to 12 PM. Late check-out is also available upon request.
Which amenities are included in the rooms of the Formentera Island hotel?
Every room at the Formentera Island hotel includes a flat-screen TV with satellite channels as well as an electronic key card for guests' security.
Is the staff at the hotel multilingual?
Yes, the staff of the hotel can assist you in English, German, Spanish and Italian.
Does the smart Insotel Hotel Formentera Playa Formentera Island offer facilities for guests with children?
Yes, the guests of the smart Insotel Hotel Formentera Playa Formentera Island can take advantage of cribs and a baby stroller.
Does the Insotel Hotel Formentera Playa offer any rental services?
At the Insotel Hotel Formentera Playa guests are offered to rent cars.
What sport activities at the smart Insotel Hotel Formentera Playa can I take part in?
At the smart Insotel Hotel Formentera Playa guests can attend a health club available on-site or make use of aerobics classes and a fitness club.
Does the Formentera Island hotel have a bar to relax at?
Guests of the Formentera Island hotel are welcome to relax at the onsite rooftop bar.